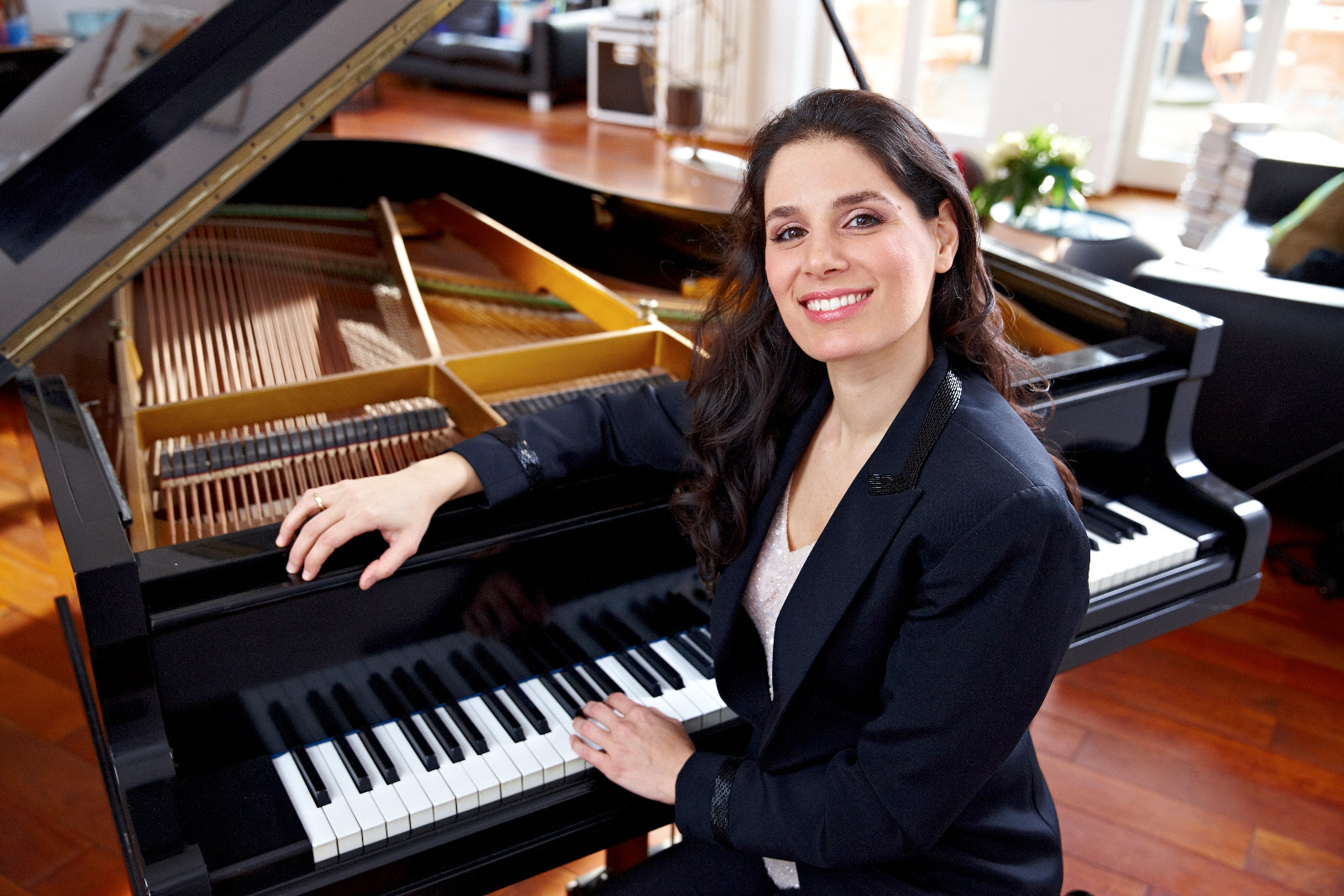 My Passion
Music has been my companion and passion since I was very little. More than three decades later, it still is a wonderful gift in my life that grants me joy and fulfillment through either teaching or performing.
Over the years, I have established a practicing method that provides the best outcome in the shortest possible amount of time. I personally use this daily for my own playing and I translate it into bitable sizes for my students in order to improve their skill levels in the fastest way as possible.
My Journey
Being the youngest of 3 children, I often felt bored at home during the time my siblings were in school. As soon as music came to my life, it became my imaginary friend; it was a puzzle I had to solve, it occupied my spirit. In a short amount of time, I could read music. I was 5 years old. A year later, I gave my first public performance.
At the age of 14, I was teaching other people how to play piano.
My Inheritance
Being the daughter of a music teacher/pedagog mother, I was exposed to pedagogy early on. I inherited what I have seen my mother do at work and added my own performance experiences to my teachings. I adored analyzing difficult performing tasks and putting them into graspable steps for my students. My students improved quickly regardless of the level they were. Some went on to study at significant music schools, others kept music in their lives for good.
Here is a picture of my mother and my daughter. Who knows what my daughter will choose to become in the future but at the moment she has interest in playing playing playing (games of course) then music, drawing and any kind of activity involving movement.
Teaching and Performing
I believe (and experienced) that anybody who has a true interest in music -given the right tools- can improve tremendously regardless of their starting point. My students have proven this to me over and over again. I feel truly proud and fulfilled when I see a student's interest turn into joyful progress and dedication. My absolute favorite is when I could start showing the student the meaning of these compilation of notes that the music conveys -sort of "going beyond the notes"-. This is what 'magic' is for me.
My second 'magic' is performing. It may seem natural to the outside however it is a very challenging task. And I love that! The preparation and the performance is a very difficult process. I evolve through its challenge. A part of me knows that the soul only evolves with challenge. It is sort of like a journey for my soul's purpose. Saying things with sounds that the words can't describe and the exchange of energy one feels with the audience before, during and after the concert is a remarkable entity to experience.
This is why I do both.
(...) Tugce demonstrates a solid foundation of excellent teaching skills together with the personal qualities (...)

Tugce has an incredibly dynamic, energetic, and creative teaching style. She is passionately committed to helping students develop both solid technical skills and heartfelt musicality. Her imaginative use of language and metaphor is totally engaging. She is also highly compassionate and concerned about the well-being of her students. Other impressive personal qualities are her integrity, curiosity, openness to different ideas, critical thinking, and idealism. (...) Tugce's teaching skills and pianism translate effectively into the college environment.

-Dr. Carol Prochazka

Instructor of Piano Pedagogy, Peabody Conservatory of the Johns Hopkins University; Co-Chair of Piano Department, Chair of Theory Department and Co-Director of Arts for Talented Youth program, Peabody Preparatory of the Johns Hopkins University
Fazil Say
Virtuoso Pianist & Composer
I had the chance to watch the artistry of the young musician Tugce Tari for a long time. I've been impressed with the facilities her talent has provided her, her dedication, love and esthetics to her art, her charismatic personality and her beauty of personality. She is a young pianist that we would need in concert halls throughout the world and would like to see on stage.
Boris Slutsky
Piano Department Chair
Peabody Conservatory of the Johns Hopkins University
Ms. Tari possesses solid technique couples with good musical instincts. Her playing has always been thoughtful and musical, encompassing a wide range of color as well as a distinct personality. She is a passionate performer who communicates her message with conviction and ease.
I have been very impressed with the devotion and attention she shows to each of her students. She thinks deeply about their abilities and how to best lead them to make music of a high order, both technically and artistically.

Her solutions to problems are often imaginative and she has the seriousness of purpose to carry through on her standards and her demands. Yet she is patient and pleasant, so that the student finds satisfaction in making improvement.

-Dr. Gerson Yessin

Founding Music Chair and Distinguished Professor Emeritus, University of North Florida
Tugce Tari-Roth has taught all three of my children, and my mother, at one time or another. She is a talented, skillful performer in her own right, and this, combined with excellent teacher qualities such as being very personable and patient, have made her a remarkably effective teacher.
She has always been very good at finding appropriate choices of music, and teaching styles, to fit each students, whether they were 6, or 86.
I have always been truly impressed with her extreme patience with her students. (...) She also shows a true dedication to, and love of, what she is doing; in all the hours I spent observing her teaching my children, she is always focused and gives the student 100% of her attention. I believe that she is an exceptional teacher.
-Mary O. Lewis
Under her tutelage, I have progressed in two short years from a person with only the most basic musical skills to one capable of performing intermediate to advanced classical pieces. My progress under Tugce's direction has provided me with an unparalleled sense of satisfaction and accomplishment; a level made all the more stunning given that I began my lessons at the age of 69 and with advanced arthritis in both hands. My time as Tugce's student has been a life changing experience for me.
Her teaching skills have been honed well beyond those typically associated with someone so young. She is able to make all aspects of the learning experience a joy for young and old alike. She demands dedication from her students, but does this in a manner that induces neither fear nor frustration. Her creative mind together with her extensive teaching experience enable her to tailor the learning process in a manner that makes the complex become simple. She makes believers of her students...any difficulty (even arthritis) can be overcome through hard work and attention to detail.
Tugce is an amazing and gifted teacher. She demands success from her students and is able to guide them in a manner that ensures they achieve it.
-Dominic R. Libro
Do You Have a Newborn Curiosity for Music?
You may start with checking out the blog.
If you like it, please subscribe and tell a friend. 🙂